Retail Sales Execution. The Right Product. In the Right Place. At the Right Time
Retail sales execution, digital sales, digital marketing and basic sales duties are accomplished differently for different companies and different industries. Regardless of the route to market, consumer goods wholesalers must have a retail sales execution strategy at the individual store level because if the product is not merchandised correctly, and promoted effectively, the consumer is more likely to purchase from a competitor. Despite efforts to improve in-store retail sales execution over many decades, success remains elusive. Many consumer goods wholesalers tell us that they are not satisfied with their ability for retail sales exectuion at the store level.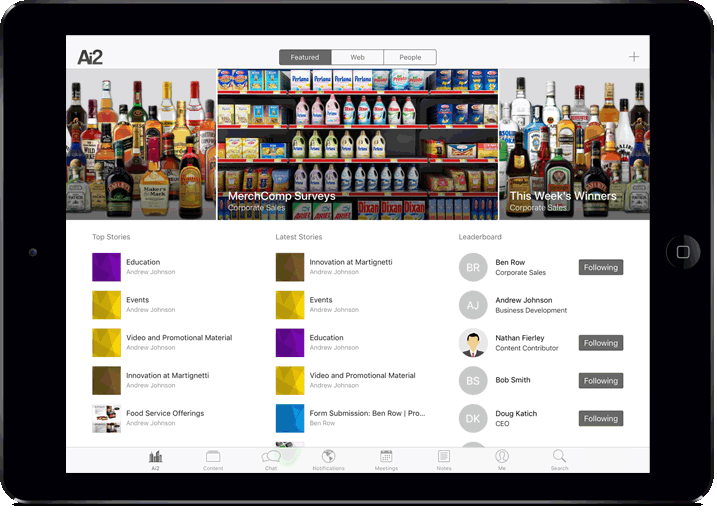 PresentPro is a tool that can create a lasting strategy for sales retail execution
Once implementation is complete CPG wholesalers can ensure that their products are reaching consumers at the right place and time, ultimately increasing their top line.  By leveraging sales and order enablement technology by Ai2 in the hands of sales rep/ field personnel during any in-store visit purchasing and management can see what is being sold, where and how it is merchandized, how much it is being sold for and create plans for continuous improvement.
You Can't Fix What You Can't See
Many suppliers struggle in one way or another with store-level retail sales  execution, whether it pertains to merchandising, price changes, promotional campaigns, or, in general, achieving adequate in-store visibility to monitor their retailers' operations.    Most of these challenges are connected by a single root problem: distance.  Distance separates suppliers from their on-shelf products and point-of-purchase marketing, undermining the control suppliers have over their retailers' operations and giving rise to many of the challenges brands associate with retail execution.
What brands do inside the store, particularly at the shelf, matters. Manufacturers, suppliers and retailers have consistently reported a much higher return on investment from in-store marketing activities, trade promotions and merchandising than from other aspects of their marketing mix. Sales enablement technology and retail sales execution powered by Ai2 sales rep management software allows wholesalers to give their suppliers store-level visibility into the retail execution strategy giving them more confidence to try new execution strategies with that wholesaler and increasing the opportunity for growth through the fine tuning of execution.
Ai2 sales rep management software technology Boosts Sales Retail Execution and Compliance by Category:
A) Merchandising Compliance –
Includes on premise promotions compliance; display tracking; trade promotions compliance; planogram compliance. Ai2 sales rep management software allows for Mobile Merchandising Compliance to ensure planograms et al integrity by capturing photos, videos, and other forms of information to either confirm or alleviate these worries, and to empower suppliers with the data to consistently execute winning merchandising initiatives. Photos and well placed questions track the look of merchandising execution primarily by checking compliance on shelf execution (planograms) as well as execution of seasonal programs and promotions (store signage, special displays; counter displays and ads, seasonal pricing and labels and sales associates' awareness and compliance with in-store programs).
B) Pricing Compliance –
Utilizing barcode capture via Ai2's order enablement apps for CPG suppliers wholesalers can initiate a pricing management strategy. Effective price management compliance is a critical component of retail success. Brands may question whether their retail partners are implementing price changes—from price increases to temporary price reductions—in a timely, accurate manner. Ai2 pricing audits and surveys will help suppliers ensure retail shoppers are seeing the prices they're supposed to see, at any given time, in any given location.
C) Display Compliance –
Ai2 sales rep management software technology enables display audits and surveys – Brands spend billions of dollars annually on point-of-purchase marketing, including displays, signage, demos, etc. But how do they know these investments aren't being squandered, that retailers and other partners are properly executing these expensive promotions? Photo graphic evidence of these displays and stock levels allow for real time data collection and strategy adjustments based on retailer and consumer response.
D) Competitor Intelligence Gathering –
Utilization of field data capture including product by category SKU and pricing to better understand the completive landscape including their positioning, store layout, promotional signage, checkout experience, and more and in effort refine in-store strategies.
E) Survey Handling –
Ai2 sales rep management software in A to D, above, is accomplished via targeted surveys or audits – think of these as "guided workflows" and comprehensive checklist and best practices to enable reps to conduct required tasks efficiently. The survey should also be thought of as an "execution tool" – not just a measurement tool. Surveys are used to improve retail execution at the point of sale. Surveys should be created by account segment or chain specific with "target" answers and "points" awarded for correct answers (think gamification). Surveys should set the actionable objectives to achieve in the account while the rep is at the account. Results should be tracked and measured against each objective ("wins") with data aggregation, reporting and visibility across all accounts.
The benefits of conducting retail audits are twofold
On the one hand, they serve as a tool for suppliers to ensure that retailers are complying with pre-established agreements on product placement, pricing, and promotion. And second, they allow brands and suppliers to accurately measure their success in the retail environment.
Equally advantageous is the priceless commodity of data that audits provide. By aggregating data from various retail locations over time and comparing results, managers can make actionable decisions that reduce inefficiencies and ultimately drive sales.