eCommerce for Supply Chain is Here, Now
The emergence of eCommerce has been a disruptive force for manufacturers and distribution companies. At one time supply chain could only be accessed via a dedicated distributor; however, thanks to the emergence of eCommerce applications and portals now can be utilized to take order from the field.
Today's consumer buyers  are used to having detailed data on everything from product availability and pricing to their order's precise location en route. Anything less is considered dissatisfactory and causes customer service issues and a low retention rate.
Because of the way consumers are now shifting their buying habits traditional distributors find their industry is rapidly changing, and the services they were once valued for are at risk as yesterday's competitive an advantage is now a liability.
This is not a shift that will happen, it's a shift that is happening.  According to this survey by Accenture, 86% of US-based B2B companies with over $500M in annual revenues have already implemented app based eCommerce solutions, and if you don't start now, it will be even harder to catch your largest competitors down the road.
Many eCommerce companies will point to these facts and say that distributor B2B eCommerce order apps must add certain eCommerce functionalities emulating the mindset that has helped the consumer market thrive with online and app-based purchasing.   Foci such as customer experience (CX), detailed product information, image optimization, social selling and a sales team that's dedicated to serving your online channels.  This ignores the primary buyer's mindset in the B2B world.  B2B buyers are purchasing something they need and they need to take orders from the field.  They are not emotionally attached the purchase like a consumer buying something they want that helps define them as individuals.
It's not to late get ready but here are 4 things distributors and manufactures should know about the future of eCommerce that will directly affect the future success of their business.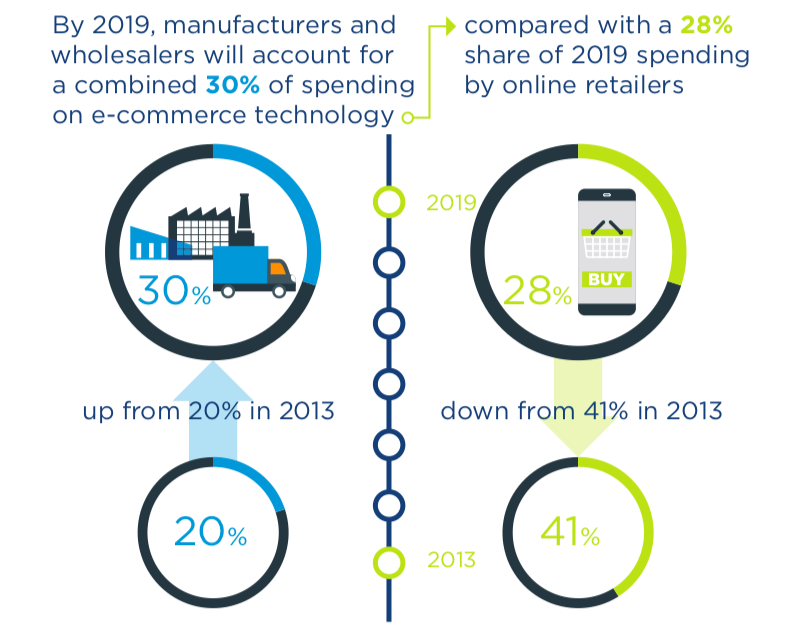 1. eCommerce is a Strategy Not a Mobile App or Website
When distributors add products to their line, present new offerings to customers or plan expansion of their facilities they strategize about how this will play into their long-term strategy.  Likewise, when a manufacturer decides to improve a line or start a new one tremendous amounts of resources are expended to ensure that product's success and fit with in the growth strategy of the organization.  eCommerce is a critical part of an organization's customer experience today and will define the company's sales process in the future.
See: Important Skills You Need to Be Ready for the Future of Sales
In order to set up for the success that eCommerce brings a long-term strategy must be considered.  It's best to purchase a platform that will be used to open up new electronic buying options for customers over time.  This means that organizations can buy a platform hub and then turn on spoke components when customers, reps and support is ready to manage the change that each will bring.  This ensures a multi-step process that will show leadership results right away and also ensure that each channel is successfully adopted and utilized.  If you purchase disparate systems or "all in one" systems you run the risk of over whelming the organization and it's customers with options, duplicating mistakes across multiple eCommerce channels and have a low adoption and utilization % from customers and employees alike.
2. B2B eCommerce is not B2C
Why are you building a B2B eCommerce infrastructure? If you said to take orders faster, better, without error and provide a best in class customer experience you and I are aligned.  Truth is there is a lot of reasons to do it but don't get lost in the mobile ordering apps that you use every day to purchase the things you want from the internet.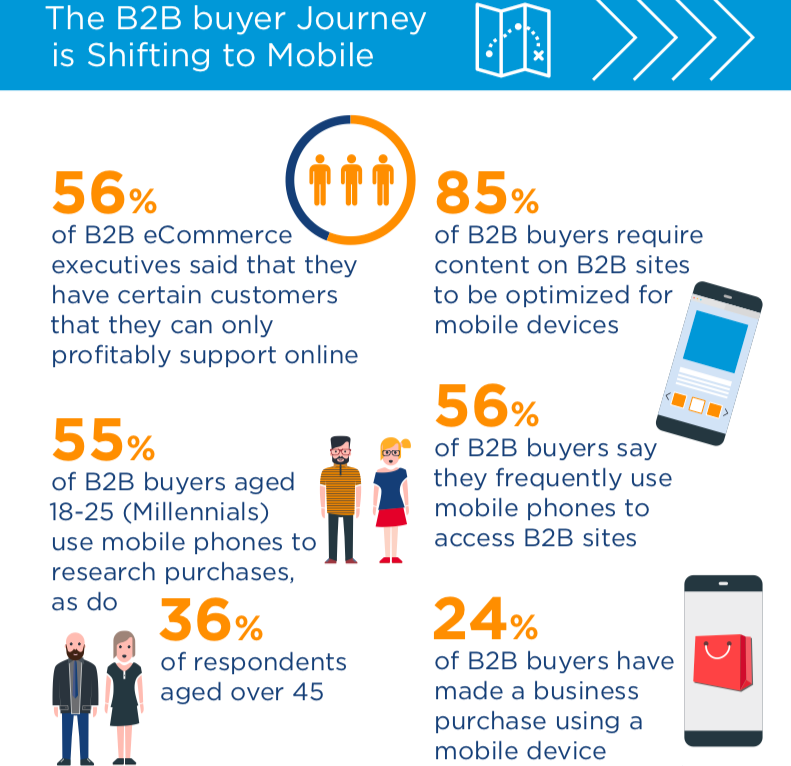 You need to build out order entry channels that fit the need of the buyer.  Consumers by things they want and that ties them emotionally to what it is. So if you are buying eCommerce tools for emotionally charged purchases you need to add things to the buying experience that will help the buyer align with other, like minded, consumers.  For instance, product reviews –   "I bought this rug for my beach house and it is perfect for that beach comber feel". 5 stars!  These types of reviews give a buyer the sense of who should be buying it and what the use could be.  Forgive me for being blunt but this is totally unnecessary and even detrimental to the Business to Business purchasing process.
Buyers that are purchasing for their organization or business need the products that they are buying to make money.  This distinction of a needs-based purchase changes the entire design of the eCommerce toolset, it's purpose and desired UX.  Notable differences are customization around price, items, purchasing options as well as a UI that removes obstacles to purchase.
See: Order Fulfillment in Three Easy Clicks
After all a majority of orders via a B2B channel are reorders of exact or similar product.
3. Distributors Understand their Customers eCommerce Brings you Closer
Traditional sales situations, distributor sales reps are masters at anticipating their customers' needs and upselling them through better services and product offerings at the right time. Now's the time that distribution companies convert that sales expertise to create upsell opportunities with the space created by new eCommerce platforms.
When the daily task of taking line item orders is eliminated or made drastically easier what happens with the extra time.  Reps and customers talk about new promotions, products and opportunities to grow the relationship outside of the typical items ordered.  As sales teams and organizations shift to a modern sales approach of insight selling with the fulfillment being done through efficient mobile order management applications a new type of relationship between distributor, manufacturer and customer will emerge.
4. Distribution and Manufacturing Companies Must Compete in the World of Data
If you don't have easy to maintain, clean and effective data, then you can't compete in the digital world.  Effective use of data is really what eCommerce companies are built on and gives them the ability to take orders from the field.  Infrastructure must align for a supply chain to function at an optimal level.  Mobile app, website, CRM, inventory, warehouse, shipping, and every logistical detail relies on the interconnectivity of this data. As technology becomes more advanced to include AI and automation this data becomes even more important.
See: Ai2 Brings the First App To Market with Sales AI for Distributors
If your organization is relying on old back end systems there are two paths you can take.  Update the front-end systems quickly to bring the best possible experience now or completely overhaul the backend systems to position for long terms success.
For some it's a look to move to newer cloud-based systems. However, new ERP systems are only a solve for some of the issues and they are very expensive as well as time consuming to implement.
ERP systems control information for a heathy supply chain but what about the customer experience?
Customer experience isn't the focus of ERP software – so how can you take orders from the field fast without huge time and money investments?
It's possible to bring a solution to provide an online or mobile-responsive front-end without gutting the back-end. Undoubtedly, the value of a developer that is only focused on developing for a front-end system is that they are agnostic to the back-office and only beholden to the available data from the legacy system.
What are you Waiting For?
We're no longer in an age where traditional distribution companies are only specialized company in town. Right now, today, buyers can go online and get exactly what they're looking for shipped right to their workplace in a matter of days. If your services don't meet their standards, or you have an off week then your competitors are just a few clicks away, and your buyers won't hesitate to make the switch once they experience the convivence and ease of a true eCommerce enabled company. If you can't be found online at all, you're missing out on a wealth of opportunities, as more than 75% of today's industrial buyers start their research with a query on Google or another online database.  If you aren't offering a Mobile eCommerce experience then you competitors will and this is the way retailers will buy in the future. An eCommerce roadmap isn't just something that can help boost your sales; it's a move that will save your business from failing as more and more buyers move their devices to buy for their businesses.
Contact us today to start building your eCommerce strategy: