Ai2 Automated Order Entry Solutions For Sustainable Companies
June 18, 2018 (GLOBE NEWSWIRE) Ai2 a leader in providing automated order entry solutions for distributors and manufactures, has been named to the Top Green Providers list for 2018 by Food Logistics, the only publication exclusively dedicated to covering the movement of product through the global food supply chain.
Food Logistics' annual Top Green Providers recognizes companies whose products, services, or exemplary leadership is enhancing sustainability within the food and beverage industry. Each year, the criteria for earning a spot on the list become more stringent for applicants. For example, the editorial staff evaluates a company's participation in such programs as the EPA's SmartWay and other recognized sustainability programs; facilities that are LEED-certified, and/or feature solar panels, LED lighting, and other energy saving installations and retrofits that produce measurable reductions in GHG emissions, to name a few.
With 2018 marking its first year on the Top Green Providers list, Ai2 has proved it's long-standing commitment to offering customers a sustainable automated order entry solutions to powering their sales force with error free and waste free products. Food and beverage companies like US Foods, PFG and Martignetti have made the decision to utilize a paper free environment with Ai2 solutions, dramatically improving their carbon footprint.
"The agricultural sector and food supply chains at large have long recognized the importance of environmental stewardship for long-term sustainability in both business and for future food production globally," notes Lara L. Sowinski, Editorial Director, Food Logistics. "Food Logistics remains committed to promoting those in our industry who understand their leadership role in sustainability and work to raise the bar with new products, services and strategies each year."
About Food Logistics
Food Logistics is published by AC Business Media, a business-to-business media company that provides targeted content and comprehensive, integrated advertising and promotion opportunities for some of the world's most recognized B2B brands. Its diverse portfolio serves the construction, logistics, supply chain and other industries with print, digital and custom products, events and social media.
About Ai2
Ai2 has automated order entry and sales order management processes for 100's of distributors and manufactures around the world.  By creating a completely automated process of order entry in the 1980's the company has ushered in a new era of paperless order entry for the distribution industry.  Today Ai2 creates native mobile applications for on and offline use eliminating thousands of tons of physical waste from companies that pride themselves on being the most efficient supply chain organizations on the planet.
These organizations chose Ai2 to help them modernize their order entry process because they know that we are providing a positive, error free experience without the need of physical waste and process of getting these applications up and running is small compared to the short term benefits and ROI they provide their customers, sales reps and the world.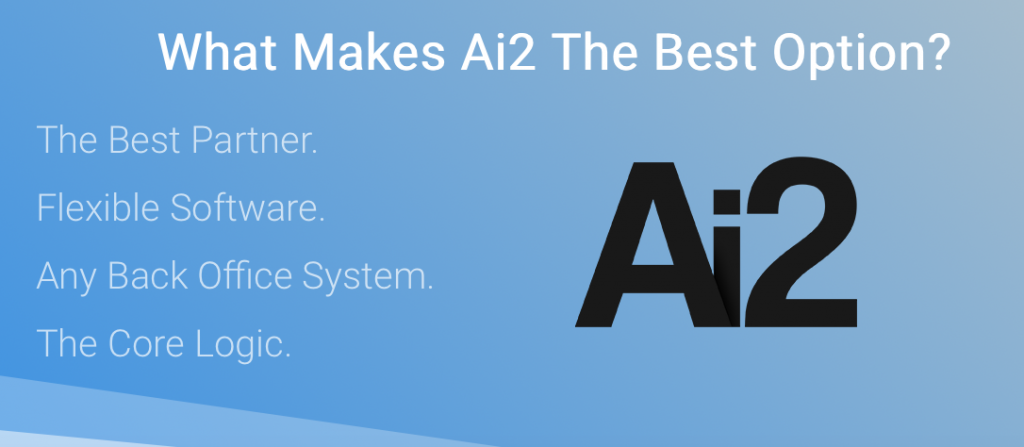 Why Ai2
ANY BACK OFFICE SYSTEM
In our 32 history, Ai2 has interfaced its mobile order management solutions to virtually every ERP and back office system utilized in the distribution industry.  We have drop-in interfaces to Oracle, SAP, InFor, Microsoft Dynamics, NCR, Award, Retalix, IFS, NetSuite, Aspen, Epicor, High Jump, Sage, Ross, NECS, CDR, NDS, SysPro, Quick Books, Turning Point — just to name a few.  In addition, we have interfaced to literally hundreds of separate home-grown back office systems as well. Our solutions are back-office agnostic and will integrate with everything.
WE FOCUS ON DISTRIBUTION
For over three decades Ai2 has deployed remote ordering solutions to wholesale distributors of high velocity goods. We have spent tens of thousands of hours riding with reps in the field.
We understand how distributors work and our solutions have been developed – not behind a desk – but based on our real "feet on the street" experience and the best practice know-how we have learned across distribution verticals.
FUTURE PROOF PARTNER
Technology changes fast and what is relevant today becomes obsoleted tomorrow. Yet Ai2 has many major distributor clients who have used and relied on our ordering solutions for over twenty-five years. Ai2 is constantly anticipating, developing toward and migrating our solutions to the future technological trends. In the early 1980s, Ai2 was the first company to ever deploy remote order entry software running on the first true mobile device – a telephone! In 1993, Ai2 was the first company to offer a tablet-based solution running then on the new Microsoft Windows OS. In 2011, Ai2 was the first company to deploy a mobile order management application running on the very first-generation iPad.
In Ai2, you have a partner who will continue to be of value to your business into the distant future than one that becomes obsolete. 
CORE LOGIC
Simply put, our mobile ordering solutions are the most powerful and feature rich solutions on the marketplace. Virtually every feature that you could require is already baked-in and standard in our base software. However, we know that every distribution business operates differently and our software bends to meet the needs of your business and not the other way around. Our software is infinitely configurable but, more than that, Ai2 will customize aspects of our solutions required to meet the unique needs of your business.
50,000 daily users, one-hundred-billion-dollars in orders written each year and over one trillion order transactions successfully accomplished demonstrates that our solutions are battle tested and proven.
Let Ai2 Help You Automate Order Entry and Become A Paperless Organization