Mobile CRM Must Be Deployed With Order Management
Most of us know what a CRM is and why it's important.  What's not an easy question to answer: what is a CRM in the manufacturing and distribution business?  A typical CRM process will drive a sales relationship from lead to prospect then support the presentation of goods/services with mobile CRM.  Most distributors and manufactures are not driving the typical customer relationship, they are driving the engagement of existing customers to purchase more and different products from the same sources.  If a mobile CRM tied to the ordering process is properly implemented the benefits can be immeasurable.  The challenge, however, is that investment in a customer relationship management system often pricey and a CRM doesn't solve the mobile sale rep order entry needs.  On top of that it likely doesn't even communicate in a meaningful way with the order data being collected at the points of order.
In order to get the most out of relationship management at a distributor or manufacturer the order management must come first and the mobile CRM tools should be directly connected or embedded into the system.
Here are 9 statistics that will motivate you to find a mobile order management product that has CRM software baked in.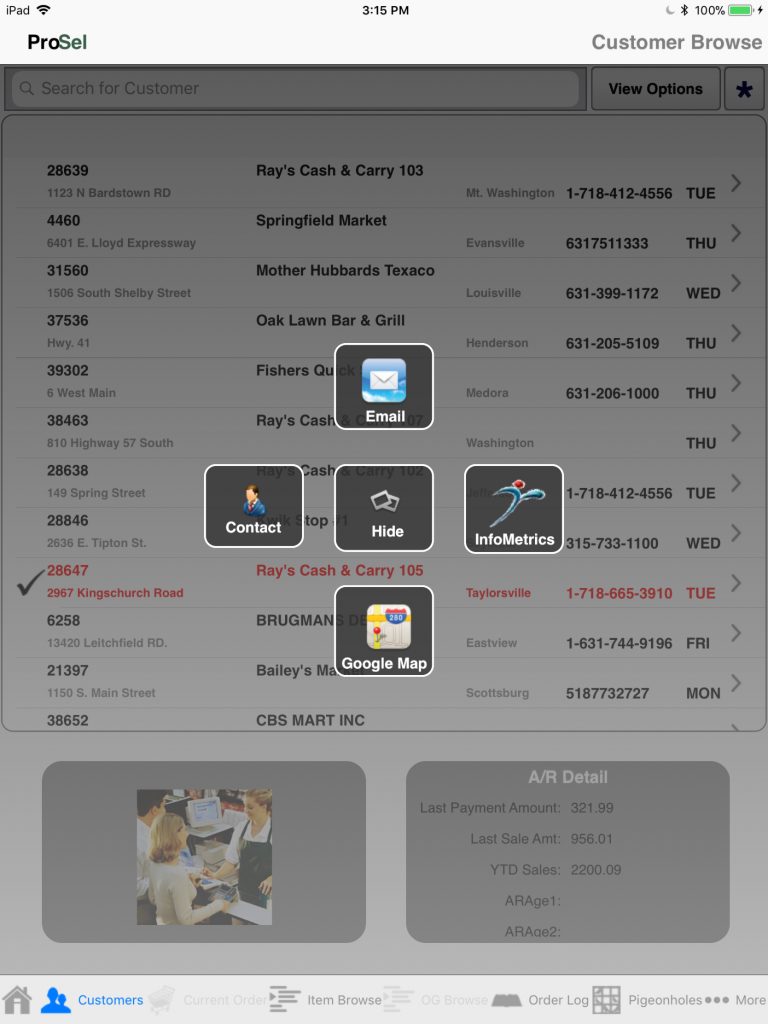 #1 Three out of four consumers say they spent more money with a company because of a positive customer experience – Your order management tools with mobile CRM has a primary goal of improving customer service and increasing solution based selling to create brand loyalty. (Source: Global Customer Service study)
#2 CRM (tools) give an average of $8.71 for every $1 spent – According to Nucleus Research, Ok that's ROI.
#3 37% of B2B eCommerce buyers ask questions on social media sites when looking for answers – if your reps aren't knowledgeable about how to manage accounts the response won't be pretty  (Source: WurlWind)
#4 Sales reps saw productivity increase by 26.4% when adding social networking and mobile access to mobile CRM applications – Another study by Nucleus Research reveals social and mobile help align CRM to greater business objectives.
#5 Per sales person, a CRM with order entry can increase revenue by a whopping 41%!!! That's a productive year.
#6 Omni-Channel eCommerce order options and mobile CRM are known to improve customer retention, by as much as 27% – An existing customer is looking for relationship improvement and that will drive new business. A CRM will help you continue to build relationships with the knowledge of how your customers order and work.
#7 6 out of 10 small businesses are using their CRM for email marketing – Follow up with from a good interaction with important insights into a retailer's business in vital.  Utilizing order entry history combined with analytics from CRM analytics from companies like Great Vines is key. (Source: MarketingCharts.Com)
#8 CRM grew to a $36.5 billion market worldwide in 2017 – According to Forbes.  At the end of 2017, Customer Relationship Management (CRM) software revenues overtook database management systems to become the largest of all software markets.
And with revenues expected to reach over $40 billion in 2018, it's no surprise that CRM is the fastest growing software market.
#9 Mobile CRM is the growth engine – Nearly half access their CRM system on smartphones (48 percent) and/or tablets (45 percent), with 49 percent accessing it on at least three devices.
The numbers certainly reveal that managing your customers orders with some level of mobile CRM software will improve all facets of your organization.  Relationship management steams from the life blood of distributors and manufactures which is order management.  Mobile CRM built on a solid foundation of mobile order management how distributors and manufactures will reap the benefits of solid analytics.