Devices need Solid Apps to Realize the Benefits
Thriving businesses across America and the world are increasingly reliant on mobile devices, especially those in industries such as distribution, hospitality services and construction, according to the latest Sage SMB Survey on Mobile Devices.  However, few of these businesses actually budget for devices or an order management solution that make these devices truly useful.  Instead purchasing mobile solutions, infrast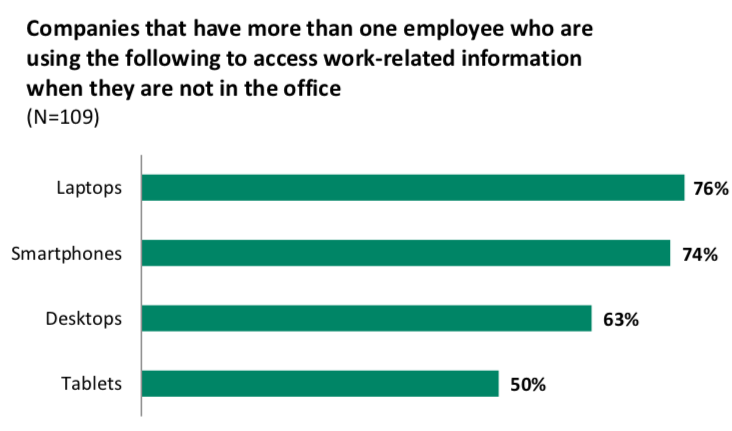 ructure and hardware as needs arises or relying on workers and management to provide their own hardware or order management solution.
Sage North America has announced the industry results of the Sage SMB Survey on Mobile Devices, finding that while sectors such as manufacturing and distribution, food and beverage and construction overwhelmingly agree that mobile technology will have positive impact on their businesses, a vast majority do not set an annual budget for mobile needs and stick legacy technology to perform critical business functions like order management solutions, customer eCommerce and proof of delivery.
Joe Langner, executive vice president and general manager, mid-market solutions for Sage North America says "it's clear that businesses are seeing the productivity gains, proving that it's worthwhile to suggest that companies plan for mobile — whether it's a specific line item expense or it's an official BYOD policy."  However a poorly planned mobile strategy leads to confusion, poorly designed apps and a constant game of catch up by the organization's IT department.
Mobile Technology is Not a Device, It's a Plan
The SMB survey found that 74% of manufacturers and distributors do not set a budget for mobile technology, at all.
This stunning statistic uptick flys in the face of the fact that the benefits of using mobile devices are pervasive among business owners, with more than half using mobile devices and applications to access work-related material when away from the office. Of those, 76 percent have at least one employee using laptops, 74 percent have at least one employee using smartphones, and 49 percent have at least one employee using tablets. Areas where mobile technology has had a positive impact include customer service (72 percent), conducting business during inclement weather (28 percent) and bringing more work to the company (26 percent).  Full findings of this are available here.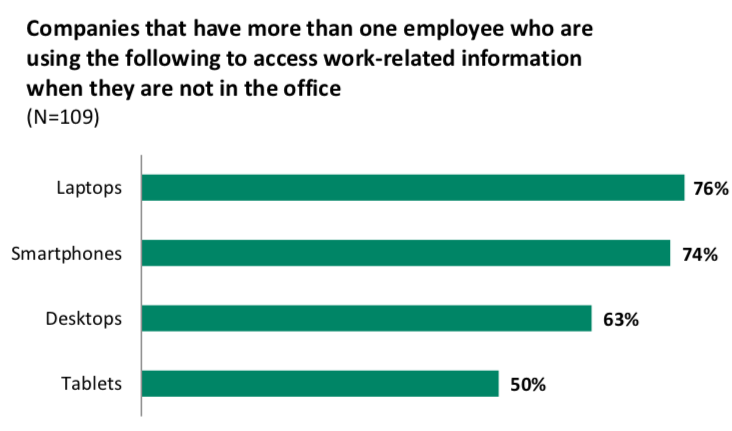 According to the Institute for Supply Management, a trade group of purchasing managers, its manufacturing index rose to 57.1 — the highest level since April 2011 — and up from 55.3 in June (anything above 50 signals a growing sector). Further, a recent Sage manufacturing survey found that business confidence is up and that 40 percent of manufacturers are expecting to see growth in their business as a result of planning.
As the manufacturing sector expects to grow, mobile technology can help keep businesses competitive. When using the right application, mobile technology and solutions gives sales reps and retailers access to transaction-critical data, such as inventory, on hand information and sales quote forms, which ultimately helps alter the business relationship and grow business. Mobile business applications can also enable seamless integration between the field and the office, eliminating potential bottlenecks between departments.
Food and Beverage is the Biggest Mobile Winner
For food and beverage companies, mobile devices have had the largest positive effect on customer service (73 percent), with one respondent noting that mobile technology helps "answer questions even when we are not in the office." This is followed by the ability to conduct business in inclement weather (33 percent) and in bringing in more work to the company (27 percent). Mobile devices prove to be a beneficial tool for employees who access work-related information when they are not in the office: 76 percent use smartphones, and 67 percent use tablets.  Complete findings from the food and beverage study can be found here.
Mobile technology can help ignite growth opportunities, especially for those companies in food service, where a solid mobile plan can enhance customer service, increase sales, improve overall efficiency and expedite orders. Mobility has rapidly changed the way that food and beverage companies conduct business, allowing them to provide an essential offering outside of their traditional channels, in turn opening a greater outlet for sales.
Why Should We be Planning for Mobile?
Stop thinking that the fleet of laptops running windows or a cypher unit with a mobile order management solution deployed 15 years is good enough for the next phase of business growth. It isn't.  If you don't plan now here is what will happen.
Your employees will bring their own devices into work and start consumerizing the IT infrastructure at the organization.  There will be no policies set and no infrastructure to support the mass adoption that will occur without standardization so there will be no way to effectively police or deploy meaningful solutions.   IT will then have to go back and review what has happened and be in problem solving mode fixing all the desperate systems that have arisen in the vacuum of a solid mobile solution plan.
Customers will begin to switch to organizations that are giving them the most modern shopping experience and in turn will  leave their existing long-term relationships for the benefits that a truly mobile order management solution can bring.
Let us help you plan and deploy