ideaShare Online Ordering System Training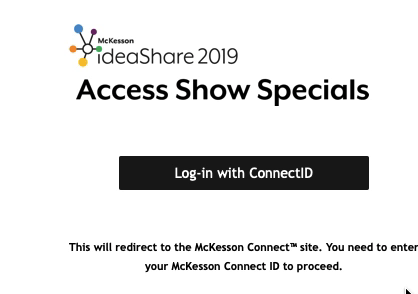 McKesson Connect Login
McKesson Connect users can use their McKesson Connect ID to login to McKesson ShowSpecials. ShowSpecials uses SAML integration to authenticate McKesson Connect users. As such, you do not need to use a separate ID or Password to login into ShowSpecials.
McKesson Connect Direct Login
To directly login to McKesson Connect click here.
About McKesson Connect
McKesson Connect is a one-stop resource for all your pharmaceutical needs: Place orders, get product updates and review order status in the most efficient manner. Access the latest information about your programs and services to get the most out of them.
About McKesson ShowSpecials
McKesson ShowSpecials is a one-stop resource for your ideaShare ordering needs. Firstly, you can build, review and edit your ideaShare orders and also the order lines added by suppliers during the live expo. Also, you can view the order fulfillment and shipping status of your ideaShare orders.
About McKesson ideaShare Ordering App
The McKesson ideaShare order app is a mobile native app for mobile ordering during the live ideaShare expo. The ideaShare order app installs directly to your iOS or Android device and allows you to quickly scan item bar codes and access the entire show specials catalog. In addition, IdeaShare suppliers can use the ideaShare order app to quickly place orders for their show special products for any McKesson customers. If you want to install the ideaShare order app click
here
.
Click on Log-in with your McKesson Connect ID
When promoted, log into Connect with regularly used ConnectID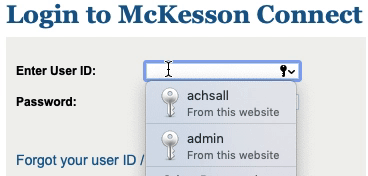 Ordering Overview: Select Store Account for Which to Place Order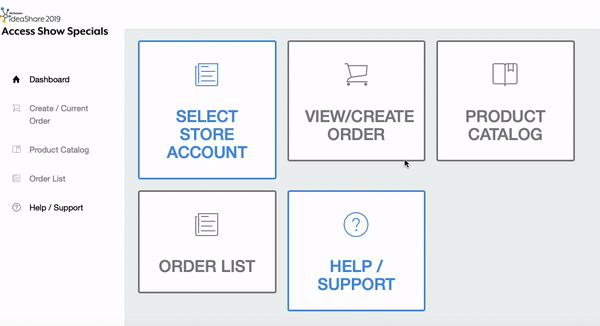 Before creating an order, Store Account must be identified.
Click on "Select Store Account"
Once you see the account you want to order for, click on account
You are now ready to Create Order
Ordering Overview: Create Order
Click on Product Catalog
1. Scroll through item listing to identify products for purchase
2. Utilize the Search Feature to narrow down selection. Search can be conducted by:
Category
Item #
Manufacturer
3. Click on an item in your personalized catalog list and enter order qty and item will be automatically added to your order
Ordering Overview: Review, Edit, and Submit Order

Upon completion of browsing catalog, click on review current order to view your order summary.
That means:
Complete list of items and qty ordered
Ability to delete an item or adjust quantity
After review, click "Save" to complete order