MBC ShowOrder Web Portal Training

After the close of the live tradeshow expo, Mason customers will be able to log in the MBC ShowOrder Web Portal to view and edit their MBC show order. 
First, secure your login credentials information directly from Mason Bros.   Then click on the below link to be taken to the MBC ShowOrder Web Portal – called OrderOasis.   You will be prompted to sign in and then you will be taken to the dashboard
You will see three buttons on the dashboard.
ShowOrder- Will allow you to view the items that were ordered during the Mason Bros show.  Please note that they are consolidated into a single order for your review and editing.
Catalog – Allows you to view all the products featured at the show.
Help – Shows you the support path.
Note* you can access your account information by clicking on the silhouette icon in the upper right hand corer of the screen.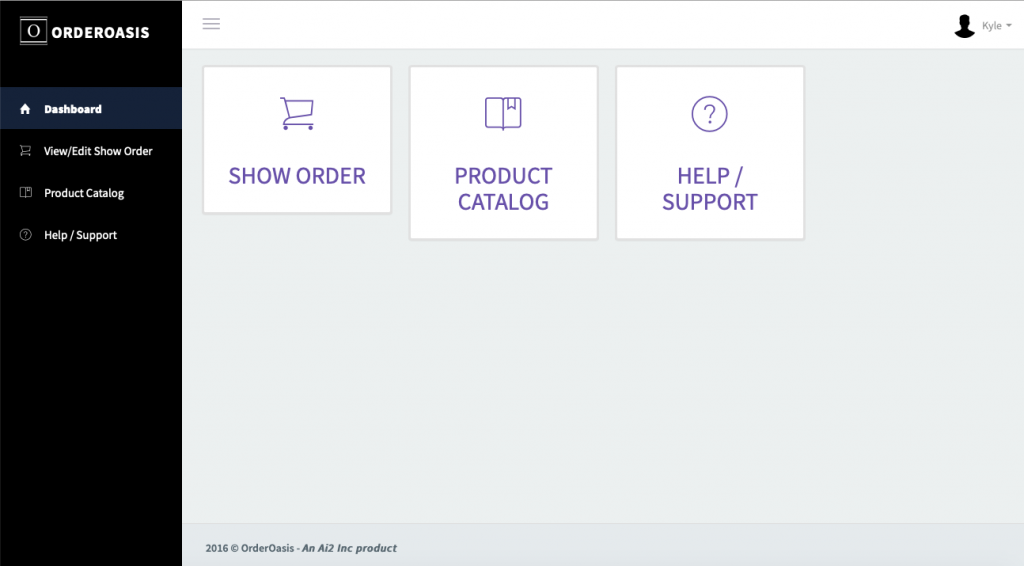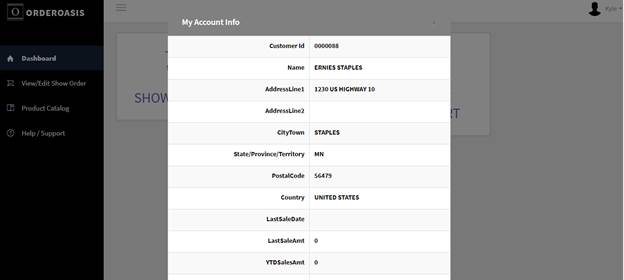 View/Edit Your ShowOrder
To view/edit existing order just click on View/Edit ShowOrder button.   All orders placed for your account are consolidated into one single order for your review and editing.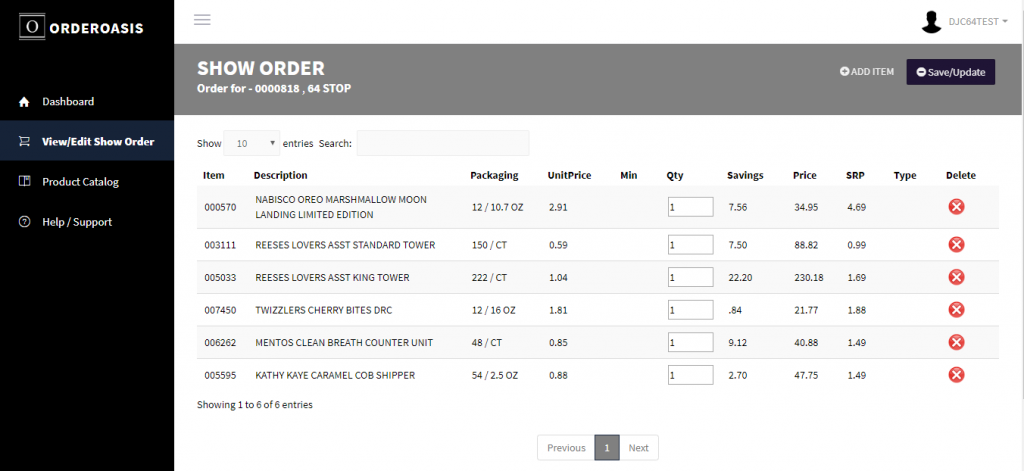 To see an order summary of all orders scroll down to the bottom of the screen.  Your show order is summarized there in total lines; total quantity and total dollars are shown.

Click the ADD ITEMS button and use item numbers to rapidly add new lines to the current ShowOrder.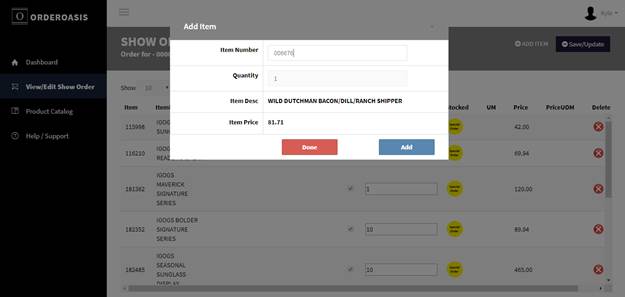 Searching and Editing your ShowOrder

Use the search field to locate and review any lines in your ShowOrder – you can search by item description or item number.   To clear your search filed – just use back space to remove the search term used.  
Note that your ShowOrder does not sort by the most recent items you have added at the very top.   So if you want to confirm that any items you have added to your ShowOrder are present, just undertake a search for the item by description or item number.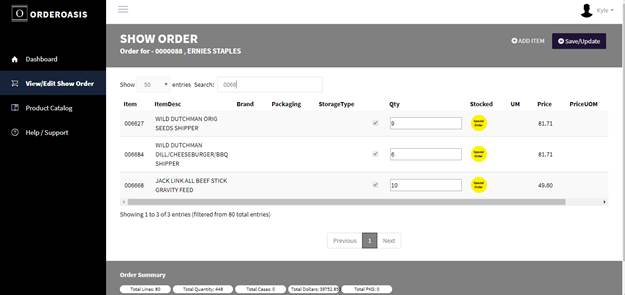 Product Catalog
Click product catalog to work with all the items available during the show.  
You may add additional items to your order by entering the quantity desired.  Note that by adding a desired quantity into the QTY field and hitting ENTER you will be adding to the current ShowOrder purchase.
Right click on any item to expand the item details.  This will show additional information like Ship Windows and Package Size.
Use the search bar in the product catalog to search for items by product description and/or item number.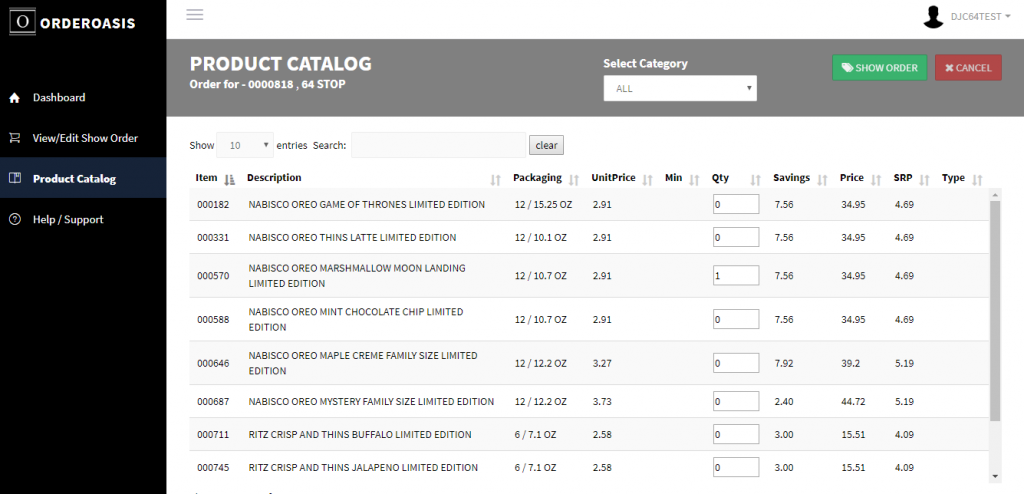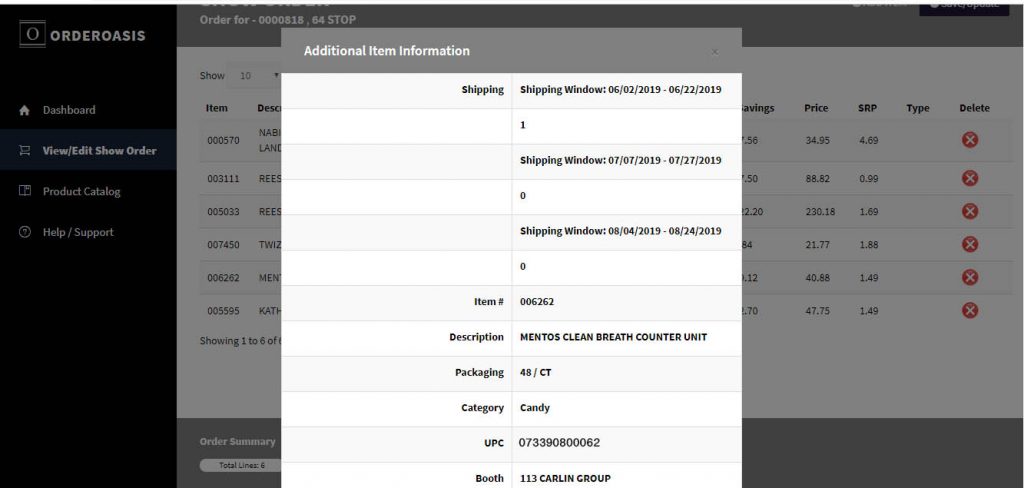 All Edits you make to your Show Order are automatically saved.   Before you exit your session, you can tap the Save/Update button to confirm.