Purchasing is Done More Frequently on Native Mobile Apps
Did you know that 60% of all purchasing today is done on mobile devices?  No business that relies on order entry can afford to ignore mobile apps for distributors.  Mobile is has become the main channel and is the future of sales and marketing.
But do wholesalers need an app for mobile sales, or is a mobile-optimized-web presence good enough?
In the US consumers are spending twice as much time on their phones as their desktops and 87% of that time is spent on apps, yet at Ai2 we find that many organizations think a mobile web presence will suffice.  In fact, some completely forgo a mobile presence putting them behind for what is happing now vs. what has happened in the commerce world.  Mobile apps for distributors is a key factor for future success and we can prove it.  Just look at our application Ordershark.
The Truth About Mobile Apps vs. Web Apps
Here is the truth: mobile optimized web and mobile apps are both important and there are pros and cons to both but for wholesalers the mobile app presence fits the need and customer base much better then a mobile optimized web presence. Mobile  apps are significantly better for a personalized, scaled eCommerce experience while the web attracts more organic traffic and is used primarily for product price and availability research.
Over half of web traffic is now on mobile, but consumers are spending significantly more time and more money on mobile apps. In last quarter of 2017, for the first time ever mobile app sales surpassed eCommerce on the web with $52B in mobile app commerce the U.S., according to Business Insider and the U.S. Census Bureau.
Mobile Apps for Distributors
For B2b customers personalization and convenience is king. Native mobile apps make purchasing personalized, seamless and simple, reducing transactions to a few clicks, and this is driving customers to buy more using mobile apps.
According to Forbes, the three main drivers are convenience, speed and stored data. Native mobile apps accomplish this in a way web services can't with a slew of features, such as:
Reduce or eliminate log ins and access to the data
Responsiveness — Native apps are many times faster to load and respond to the user giving the end user a much less frustrating experience.
UI — Native applications look amazing and are designed specifically for the device that they function on.
Security – with device security at the forefront it's much more secure to use a native mobile app for important data and payments.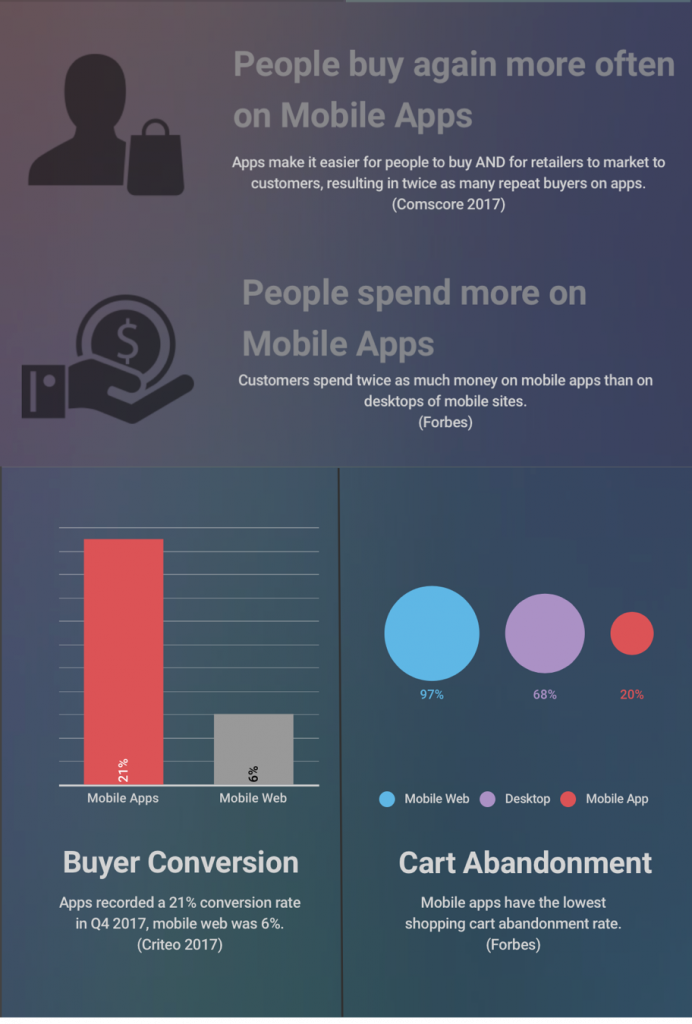 With better hardware and increasing network speeds, the mobile web experience has improved greatly, but for commerce applications especially, mobile apps are significantly better across many metrics. Mobile apps for distributors offer better sales conversion and a faster, more convenient user experience, while giving retailers the tools for effective, data-driven marketing.
As apps become easier to develop and maintain a web presence just won't cut it and mobile apps will get more and more popular. The bottom line is that mobile web sites are by definition constrained by web browsers and truly designed to drive traffic, and those constraints limit functionality and cause latency. And as we know, consumers these days are extremely fickle and unforgiving, and will bail out if inconvenienced even slightly.