Mobile Selling:  Look Backwards to Move Forward
http://software.ai2.org/cdi/osiqa.html
http://software.ai2.org/mbc/psqa.html
It's important to understand the history before moving forward into the new world of mobile selling.  Organizations in the consumer selling world were first to embrace mobile selling technology innovations which gives their B2B counterparts a significant playbook to learn from. Buyers of all types are rapidly embracing mobile selling over web-based tools so we can learn from the methods employed by B2C retailers who were first to realize the benefits of online ordering and mobile selling.
Wholesalers and Manufactures have long held the position that in-person sales would always be the foremost method, however, as buyer profiles have changed over time, mobile selling has become more prevalent and will continue to take over market share left by organizations that don't embrace these new concepts.
Despite data that shows mobile selling and eCommerce will eventually take priority over traditional brick-and-mortar forms of selling, doors still remain open to shoppers. In person selling and traditional retail still remains relevant as a means to give shoppers unique buying experiences and to deliver to the instant gratification wants of shoppers.
As wholesale distributors and manufacturers embrace an mobile selling, there is a lot to learn from looking at how the mixture of mobile and in person selling as settled for the retail industry.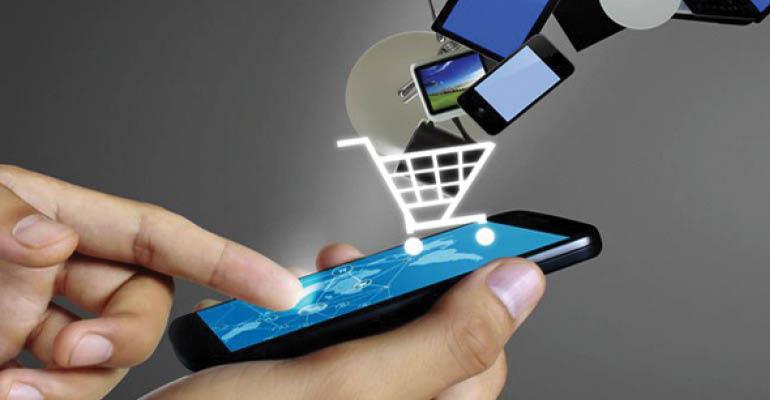 Lessons from Retail for Mobile Selling Platforms
Why are in-person sales in brick-and-mortar stores continuing to thrive?  What have successful retailers been able to do with their in person selling concepts in order to make the mixture of mobile selling and traditional selling successful?
People like to experience a purchase
Attracting a new buyer or the attention of an existing buyer is not easy. Retailers use color, music, displays and interesting layouts to position their products in the best light possible. Buyers appreciate the opportunity to see and touch products before they buy, and a retail stores makes this process simple and easy.
‍Knowing that buyers want to experience a purchase, suppliers implementing mobile selling apps and online sales platforms can emulate this in the digital environment. Use customized color schemes, unusual fonts, take the time to invest in image-rich digital catalogs and an intuitive and unexpectedly simple user interface. This will create a lasting impression from your custom mobile selling experience.
Personalized experience
Successful retailers like Apple and Channel know that understanding customers and caring about who they are is crucial. Consumers want to feel important and unique, curious sales people who are able to customize the product mix in the moment is a hallmark of the successful modern retailer.  Mobile selling has the unique advantage to customizing the experience every time by using the digital memory.  The experience from opening the platform through to checkout can be unique to the user at the controls. Utilizing modern selling apps allow you to set up custom catalogs that are tailored to display the product and pricing information meant specifically for their account. Offer them a chat option to speak directly to a concierge customer service representative. Suggest new or related items that are in line with their past and current purchases and then invite them to return on checkout.

Retailers have adapted to digital trends.
Physical stores have been able to keep up with mobile selling platforms because they've learned to play by the new rules. The best brick-and-mortar stores use technology to enhance the consumer buying process.
Many retailers allow consumers to check on product before they even enter a store. Others provide apps that are designed to help consumers navigate particularly large store layouts. Some are even beginning to offer augmented reality experiences that help customers truly envision the benefits of a product they're considering to purchase.
The ability to disrupt the status quo is what sets wholesale distributors apart from one another. It's now time for digital mobile selling platforms to adapt to retail trends.  This presents companies who are launching mobile sales platforms for the first time a rare advantage.
This is because they can spend their resources wisely and avoid implementing sales apps that are not geared toward the future of adoption and utilization. Some suppliers are attempting to patch old mobile selling solutions, such as ERP extensions and custom-built software, but the process is difficult, expensive and unpractical.