ProSel Mobile Order Taking App for iPad
Field Sales Order Entry for iPad, Barcode Scanning & Content Management
ProSel is a fully customizable, iPad sales app for high velocity order management. The app is built native to the iOS platform for fast, reliable, available anytime and fully flexible features to work the way you do. Deploying an order taking app the automates the order process improves operations and overall customer satisfaction by:
Building more sustainable relationship with your customers
A more efficient and connected sales force
Bringing real-time, actionable information to sales reps
Eliminating errors and allowing for operational excellence
Removing paper for a seamless digital process
We have over 100 versions of this app in use and believe that software should bend to meet the way your business works "it is not one size fits all."
Fully Automated to Every ERP
Increase the life of your ERP by streamlining your internal processes and automating the order entry process with modern mobile technology. By deploying ProSel mobile order taking app to the field that is always on and available, even if there is no internet connection. Your reps and customers can get specific real-time data including contract pricing, proprietary items and many other distribution industry specific needs to place orders right into your backend system no matter what your infrastructure is.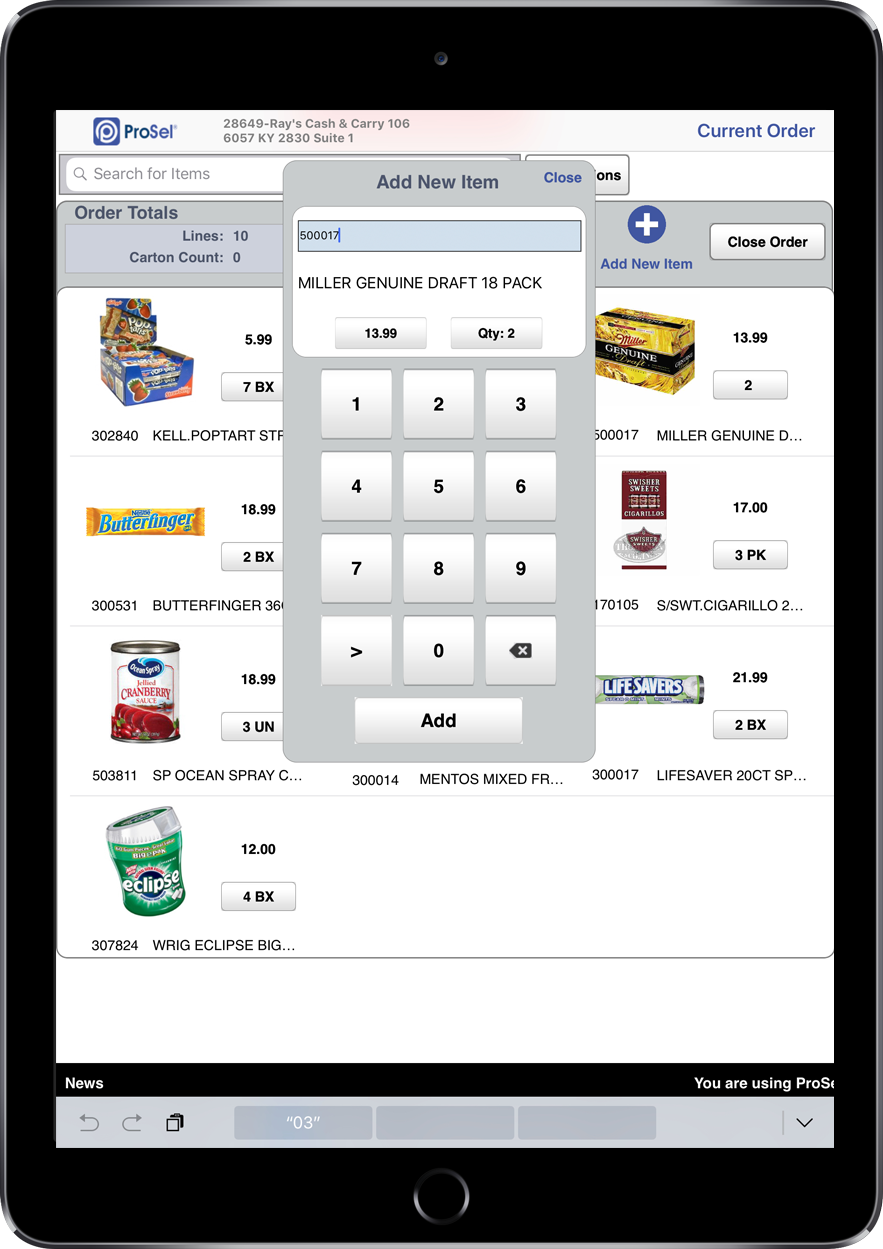 Order Enablement for iOS
The ProSel iPad sales app is used by many of the largest and most demanding distributors throughout the world to write over $100 billion in orders every year. Since the application is built to be customized it is also used by many mid-tier and even smaller distributors as well. Business Teams at Apple have championed this app for years for its complex core logic pricing algorithms, simple workflow, lightning fast functionality and laser focused design.
Industry Specific
Distributors need specific functionality in their field sales order app. We've built all of the features needed by distributors and manufactures into ProSel including barcode and shelf tag scanning and printing; credit and returns automation; digital signature capture; local and global order guides; order by history; advanced filtering and view options; inventory-on-hand; pricing and commission logic, associated, proprietary and related items; multiple units-of-measure; margin management; order by image; fast progressive search; detailed AR drill down, history and export. All designed specifically for the wholesale distribution industry.
Built for Speed and Reliablity
By using modern mobile hardware that is compatible with legacy ERP systems you get the benefits of an updated customer experience in less time. Your team can access the entire catalog, even if they are not online. Since the application is built natively you will never lose an order even if your iPad powers down in the middle of an interaction. All open orders, even those under construction, are automatically stored to local memory and synced to the server. As all data resides local on the device, is sandboxed from the system and other apps, is instant on and the data is available quickly and will always work with full functionality without a connection to the internet.
Sales Content Management
The ProSel order taking app handles the distribution and digital management of all your sales related collateral. No more fat stacks and no more paper. Showcase all your promotional content (PDF files, slideshow, videos, interactive HTML, Office Documents) and present your products and services in beautiful high resolution. ProSel's content management system is intuitive, requires no training and handles private and public content.
Strong
Our mobile order taking app is robust. ProSel will handle a price book of over 2 million SKUs; product images; item sales history; customer information, customer order history, customer A/R history including invoices; all collateral sales materials and promotion content and your customer-item specific pricing.
Implementation
For over three decades, Ai2 has deployed its remote ordering solutions to wholesale distributors of high velocity goods. We have been delivering sales-enablement software platforms that interface directly into backend enterprise resource platforms since the 1980s. Our team has spent tens of thousands of hours riding with our customer's sales reps and working our customer's trade shows and we use our "feet-on-the-street" direct customer interactions and knowhow to guide the development and interfacing of our technology. Through our deep experience and understanding as to how distributors really work, our implementation process has also been optimized and informed. During the implementation process and ongoing relationship with Ai2, DPI will benefit from our industry experience and the best practices know-how we will share, which we have learned over our three decades of working with the largest distribution companies across many verticals.Over our thirty-year-plus history, Ai2 has performed thousands of successful implementations and has successfully interfaced our software solutions into virtually every ERP and homegrown back office system in the marketplace, including Oracle.
Ai2 Core Logic Is What Makes Us Different
One of the important elements that separate Ai2 is that our mobile order management applications are true, offline-first native applications containing a 100% local database running on the mobile device. This does not allow Ai2 to offer what is known as write once, use anywhere applications, because such applications will not meet the intense data and offline needs of our many customers. Most companies today offer mobile order apps that look and operate in an almost identical manner as the online ordering portal they offer. Usually, the reason for this is because the mobile apps being offered are, more or less, web apps with some offline capabilities and maybe some SDKs allowing the web app to interact with some components of the native OS on the mobile device.
Ai2's Mobile Order Management Software (MOMS) is for distributors of high velocity goods utilizing very high data volume between a consolidated database and remote clients requiring 100% offline access to a decentralized database running on iOS and Android.
[smartslider3 slider="23″]
Over $100 Billion in Sales Orders Captured Annually