Since we can't always be face to face, utilize today's technology to stay in front of your customers on line.
Meet Your Customers Where They Are – Online
The Ai2 Trade Show platform is designed to facilitate a virtual trade show ordering system for wholesale distributor's trade show events.
The Virtual TradeShowPro Trade Show Order Taking System consists of:
1) An Online Order Entry Portal for your customers to place their trade show pre-orders and/or place orders for a virtual trade show
2) The Supplier Mobile App allows your vendors/suppliers to install the mobile app on their own smartphones to effortlessly place their trade show orders at the booth for your customers during the live trade show
3) Advance Reports by role/persona: customer reports, supplier reports; sales rep reports, and distributor's Admin reports generation based on your rules; advanced dashboard analytics of all activities in the both the Online Portal and in the Mobile App.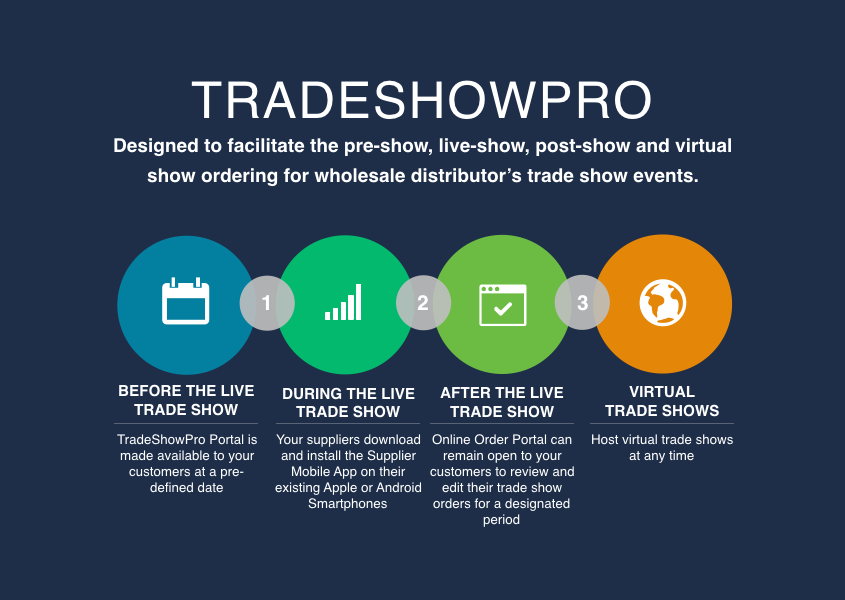 The TradeShowPro Virtual Trade Show Platform
The trade show order taking system is designed to make taking orders a seamless and easy experience that your customers will not forget.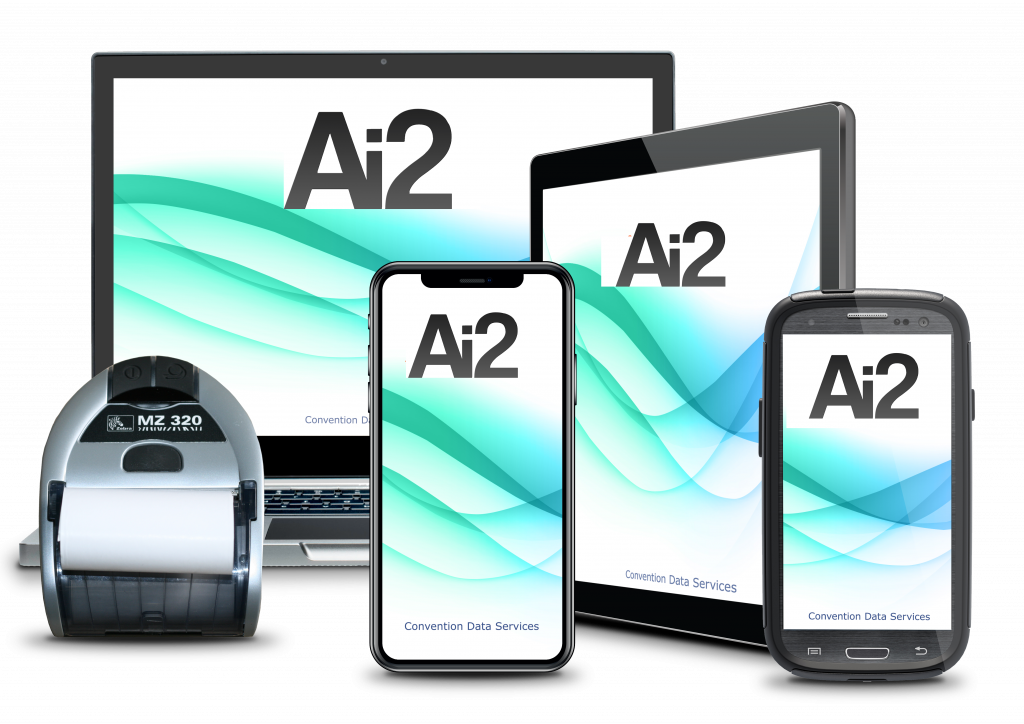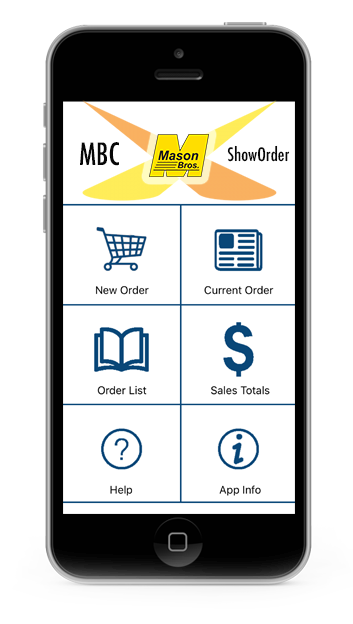 Before the Show
Pre-show, our team configures the platform to enforce your show rules, verifies the accuracy of your data and QAs the system
During The Virtual Show
We provide technical expert support while your show is underway; we also can train your users via customized FAQ pages that include video tutorials and chat based support.
SAML
Use SAML authentication to verify your users easily and allow them to use the existing log-ins and passwords they already are using for your business
Authorized Items
Your customers and suppliers see only their authorized show items and only their pricing
Chain Ordering
Allow a customer to place an order for an entire chain account
Ship Windows
Allow users to select from available ship windows at the item level
Portal Advertising
Sell and promote vendors, sponsors and manufacturers' advertisements in the Portal
Deal Support
Support all your show deals, promos and show special offers
White Label
White label the entire virtual experience from online to mobile app
Year Around Use
Utilize the system for all your virtual ordering needs and capitalize on the ability to virtually liquidate inventory, hold close-out-sales or for any special event-based ordering such as seasonal products pre-booking
No External Hardware
Runs on the most popular iOS and Android mobile devices your customers and suppliers already have; the Portal runs on our enterprise cloud and is fully responsive to any device
Enterprise-grade, fast barcode scanning
Mobile app utilizes our enterprise-grade camera bar code scanning technology and scans all barcode symbologies, UPCs and QR codes
Custom Reporting
Real time reporting available for your suppliers and stakeholders
Filter by Supplier Booth #
Users can filter product catalog by supplier booth number to work with and order just those products for the supplier booth they are in front of at the time
Sales Totals
Real-time sale totals by product line item
Trade Show Order Taking App Related Articles
Driving B2b eCommerce Application Adoption and Utilization
Designing a B2b eCommerce application or order app isn't cheap especially when it's designed to enhance a sales rep ability to dive sales or give a customer the ability to place orders. Developers and Business Development professionals spend months and sometimes years perfecting the code and thinking of the end user experience enhancements in the lab. Most organizations don't consider that when the app is finally completed the hard work begins. While working in business development at Apple I saw enterprise-wide software platforms launched over and over with great fanfare, only to find that usage dropped off dramatically several months later? In many cases, poorly planned application deployment caused a very useful app to be shelved or decommissioned due to low user adoption within a year of its announcement.
What Do Top Distributors Use For Order Entry?
When it comes to sales order software and trade show order taking, many of the world's top distributors in foodservice, wine and spirits, convenience store, fine jewelry, hardware, janitation, general merchandise, wholesale groceries, beverage, bottling, medical supplies, pharmaceuticals, cosmetics, apparel, equipment and industrial tools have selected Ai2 for sale rep order entry.
Trade Show Orders – Fast & Easy
With OrderShark, you can write your trade show orders in seconds! You can add a new customer with one tap, browse your entire product catalog scan barcodes or QR codes and begin taking orders immediately. Send all the data straight into your host for processing and with one tap email a copy of the order details to your customer.
Barcode Scanners – the Honeywell Sled Has Come of Age
Since last summer, Ai2 overheard on the trade show circuit that the Honeywell Sleds were "blowing-it-up" and taking over the barcode scanners market. Rumors — confirmed since by industry sources — were that Target's roll-out projections for the Honeywell iPod Sled (SL22) were 53,000 devices. Loews roll-out projections for the Honeywell Sled were 50,000 devices. These are some huge numbers, but what was really going on here? Why would Target replace 9,000 PC based laser barcode scanners with 50,000 iOS based digital imager barcode scanners?