Who needs paper? Mobile Proof of Delivery
In the distribution business, no order is complete until the delivery paperwork is finished. With mobile proof of delivery the process has changed. Because any process with paper is synonymous with waste, riddled with inefficacies, and error prone.  This presents an opportunity for change and a small up-front investment can improve profitability within in 6 months.
Documents used in the mobile proof of delivery process present the best opportunity to go paperless. When drivers receive load manifests or bills of lading at the shipping dock, carrying the paper along with the load might seem like second nature, at least until the errors pile up in the back to the office.  Customers and employees see the downside of paperwork as it comes across their desks, but what it costs may not be all that apparent.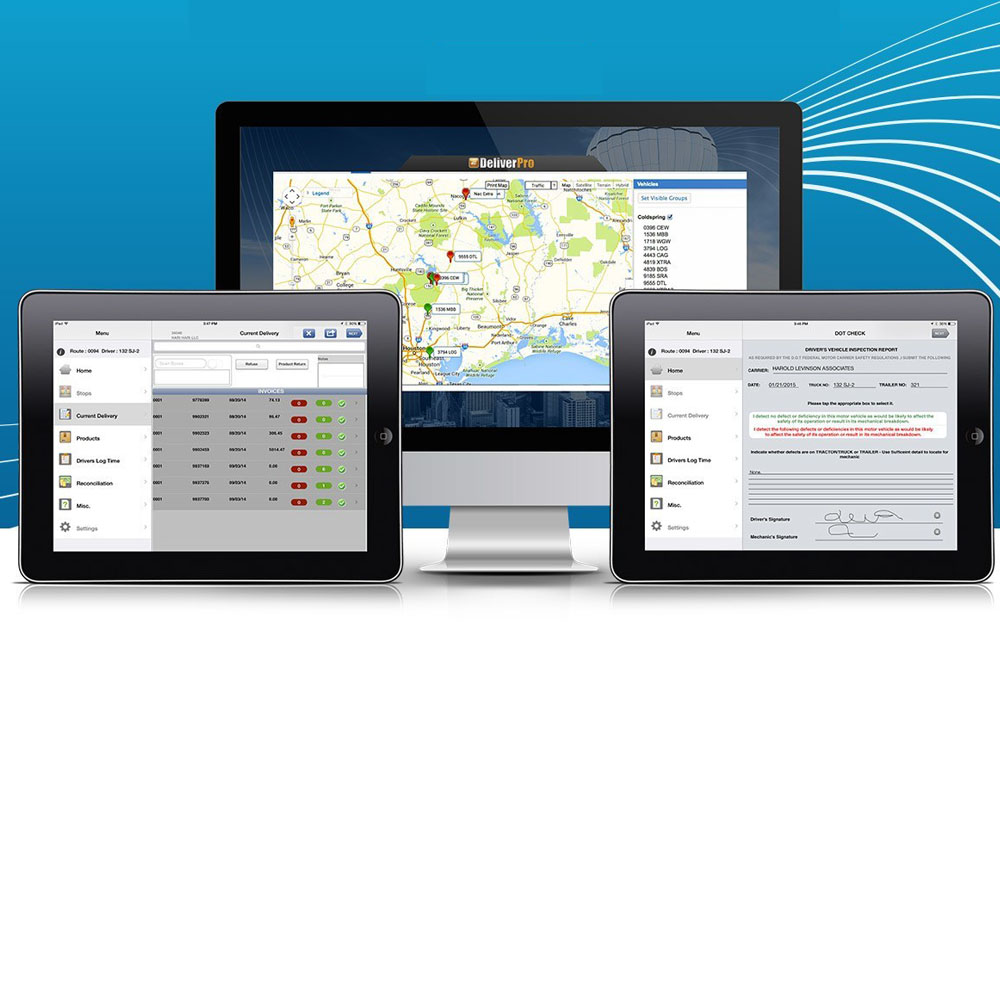 With proof of delivery assures the right goods are delivered to the right customer at the right time with verification
There are many apps and systems available but Ai2's DeliverPro is the best mobile proof of delivery app especially designed to run native on the iPad
What are the costs without Mobile Proof of Delivery?
Antiquated document management systems and services have become widely used to route documents, or rather images, into the office to speed up billing, payroll and other tasks. But the technology can also make it easy to lose sight of additional savings by removing paperwork altogether.
Our research shows that a paper proof of delivery (POD) process requires 1.5 minutes, per document, to manage. Since time is money, a 10-truck fleet that makes 30 deliveries per truck per day could save about $4,140 a month in labor costs ($30 per hour) and forms by eliminating paper.  This doesn't take into account the soft costs built into responding to customer requests for proof of delivery information and documents.
DeliverPro is a complete mobile proof of delivery (POD) solution for your drivers.
The iPad and replaces all manual processes, paper-based methods and legacy software.  Automate your payment collections, scan boxes and totes, and digitally capture signatures with this proof of delivery app. With this proof of delivery app, you also get a the proof of delivery web portal that tells you where your drivers are on their stops and how much cash they have collected – in real time.  Every customers needs are different. Contact Ai2 and let's collaborate on making your proof of delivery process as great as possible.
With the DeliverPro mobile proof of delivery solution fewer time is spent by your drivers at each stop and that means your drivers can make more delivery stops per day.
With a delivery solution your drivers will automatically reconcile all cash collections against invoice — they can accept cash, checks or credits, apply these payments or credits to invoices.   This eliminates the need to account at the end of the day back at the home office.   With the DeliverPro proof of delivery solution you can watch your cash come in in real time, per stop, and begin to apply your cash collections per stop from your home office. With the DeliverPro solution you will reduce or eliminate data entry errors in the field.  With the DeliverPro proof of delivery solution your drivers can scan totes off the truck as they are delivered and monitor their deliveries by categories (frozen, cigarettes, etc.)  With our proof of delivery app you will stop spending thousands on dedicated hand held terminals.  Switch to the ubiquitous, inexpensive iPad or iPad mini.  Ruggedize them with inexpensive hard case and your drivers are ready to go with the DeliverPro proof of delivery solution.
The DeliverPro proof of delivery solution works without a need for persistent connection.
All data is local on the driver's iPad.  Your drivers sync to start and close each delivery stop.  With the DeliverPro solution all driver activity is time stamped with Geo location.   The app give you big admin savings — eliminates all paper processes, duplicate-work, delivery and cash reconciliations and the costly re-keying of data back at the home office.  The DeliverPro solution fully integrates to your back office system. Electronic signature capture allows your customers to sign for deliveries right on the iPad.  With the DeliverPro solution the digital signature captures are uploaded to the server in real time.
The DeliverPro proof of delivery solution also automates all driver manifests and DOT checklists — your drivers will now move through the driver's paper-based tasks with a few simple taps.
The DeliverPro solution also automates your credits and return process, which is very time consuming task for you drivers.  With the DeliverPro solution you will be able to track your drivers in real time at each stop and time between stops.  The DeliverPro app tracks delivery stops, breaks, meals and fueling for maximum efficiency. At the end of the day, when all stops are closed, The DeliverPro solution automatically completes the driver's log automatically.