[smartslider3 slider="200″]
TradeShowPro is an Trade Show Order Taking System
The Trade Show platform is designed to facilitate the pre-show, live-show, post-show and virtual show ordering for wholesale distributor's trade show events.
The TradeShowPro Trade Show Order Taking System consists of:
1) An Online Order Entry Portal for your customers to place their trade show pre-orders and/or place orders for a virtual trade show
2) The Supplier Mobile App allows your vendors/suppliers to install the mobile app on their own smartphones to effortlessly place their trade show orders at the booth for your customers during the live trade show
3) Advance Reports by role/persona: customer reports, supplier reports; sales rep reports, and distributor's Admin reports generation based on your rules; advanced dashboard analytics of all activities in the both the Online Portal and in the Mobile App.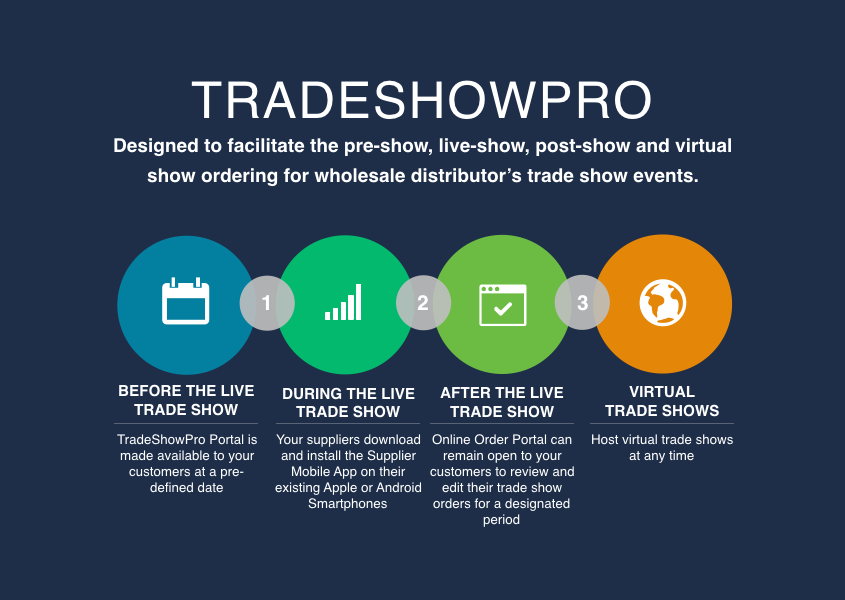 The TradeShowPro Platform
The trade show order taking system is designed to make taking orders at tradeshows an experience that your customers will not forget.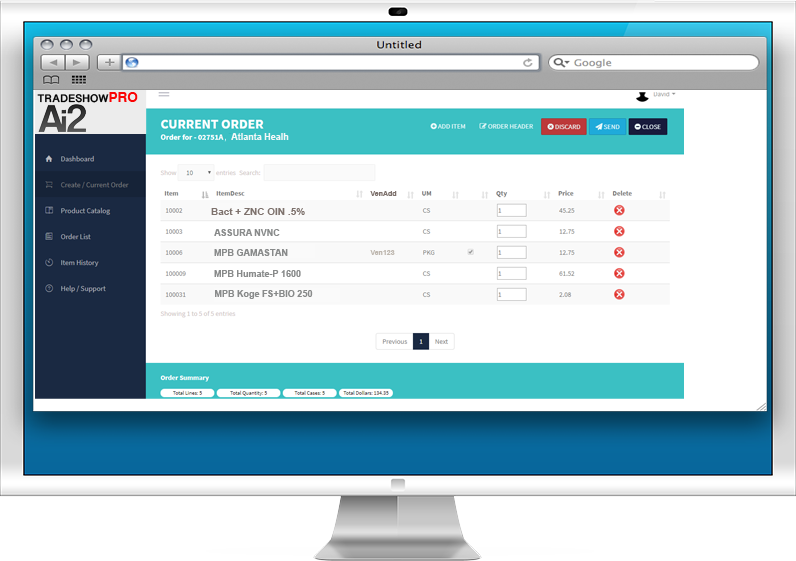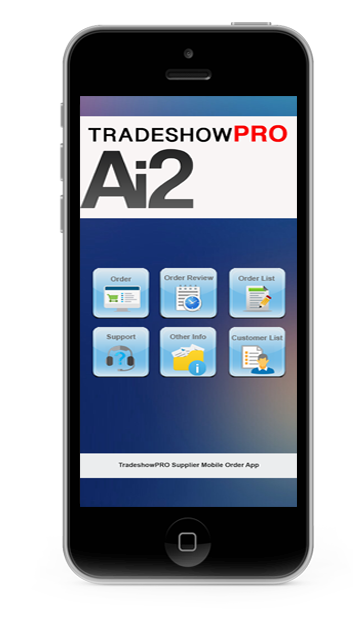 BEFORE THE LIVE TRADE SHOW
After all the trade show data is accumulated, the Online Order TradeShowPro Portal is made available to your customers at a pre-defined date where they are granted access to begin building their pre-show orders.   The Online Order Portal is quick, easy and accurate and integrated with product in-line images.  We configure the Portal to ensure the right options are enabled for your show.
DURING THE LIVE TRADE SHOW
At the show, or a few days prior to the show, your suppliers download and install the Supplier Mobile App on their existing Apple or Android Smartphones.   All of the supplier's trade show products and related data are synchronized with the Mobile App.   At the live show, your suppliers scan a customer's badge and begin building the trade show order.   Your suppliers can scan all item barcodes using the Mobile App's integrated camera scanner.   Suppliers can also schedule their pre-book delivery releases.   Suppliers can also punch in product numbers and browse their product catalogs.  The Supplier's live trade show orders are synced by the trade show order taking system with the Online Portal and consolidated with any customer's pre-show orders in the portal so that your customers have full visibility into all lines added at the live show by suppliers.
AFTER THE LIVE TRADE SHOW
Depending upon your show rules, the Online Order Portal can remain open to your customers to review and edit their trade show orders for a designated period following the live show.   Customers, Suppliers, Sales Reps and your Admin can generate custom reports from the Online Order Portal based upon their roles/persona.  When the show event is closed, our trade show order taking system formats all data for export and import straight into your back office system.
VIRTUAL TRADE SHOWS
The Online Order Portal of the trade show order taking system is flexible and cost effective enough to allow you also to host virtual trade shows at any time.   This eliminates costly show expenses during off season periods. The system monitors how the virtual show is progressing and your vendors have the ability to view show totals throughout the virtual show. Your customers can order from the virtual show twenty-four hours a day!
Trade Show Order Taking App Related Articles
Driving B2b eCommerce Application Adoption and Utilization
Designing a B2b eCommerce application or order app isn't cheap especially when it's designed to enhance a sales rep ability to dive sales or give a customer the ability to place orders.  Developers and Business Development professionals spend months and sometimes years perfecting the code and thinking of the end user experience enhancements in the lab.  Most organizations don't consider that when the app is finally completed the hard work begins.  While working in business development at Apple I saw enterprise-wide software platforms launched over and over with great fanfare, only to find that usage dropped off dramatically several months later? In many cases, poorly planned application deployment caused a very useful app to be shelved or decommissioned due to low user adoption within a year of its announcement.
What Do Top Distributors Use For Order Entry?
When it comes to sales order software and trade show order taking, many of the world's top distributors in foodservice, wine and spirits, convenience store, fine jewelry, hardware, janitation, general merchandise, wholesale groceries, beverage, bottling, medical supplies, pharmaceuticals, cosmetics, apparel, equipment and industrial tools have selected Ai2 for sale rep order entry.
Trade Show Orders – Fast & Easy
With OrderShark, you can write your trade show orders in seconds!  You can add a new customer with one tap, browse your entire product catalog scan barcodes or QR codes and begin taking orders immediately.   Send all the data straight into your host for processing and with one tap email a copy of the order details to your customer.
Barcode Scanners – the Honeywell Sled Has Come of Age
Since last summer, Ai2 overheard on the trade show circuit that the Honeywell Sleds were "blowing-it-up" and taking over the barcode scanners market.  Rumors — confirmed since by industry sources — were that Target's roll-out projections for the Honeywell iPod Sled (SL22) were 53,000 devices. Loews roll-out projections for the Honeywell Sled were 50,000 devices.   These are some huge numbers, but what was really going on here?   Why would Target replace 9,000 PC based laser barcode scanners with 50,000 iOS based digital imager barcode scanners?